Cody Coleman, DDS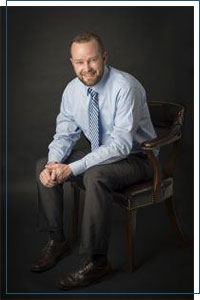 Cody Coleman was born in Whittier, California, but spent most of his childhood in the small town of Koosharem, Utah. After graduating from high school and spending two years in Ireland, Dr. Coleman returned to finish his undergraduate degree in zoology at Brigham Young University. He then received his Doctor of Dental Surgery degree from the University of Maryland Dental School.
Dr. Coleman has lived and practiced dentistry in Farmington for more than 10 years. Having assembled an exceptional team, Dr. Coleman is able to provide the highest quality of dental care to all his patients. Dr. Coleman is continually improving his practice with the newest techniques and products to bring state-of-the-art, personalized dental care in a caring, safe environment. He has also participated in the building of and opening of multiple dental practices in New Mexico and Colorado. Dr. Coleman is an avid outdoorsman and takes advantage of the beauty of New Mexico and Colorado by spending time camping with his wife and children.
Michael Tobler, DDS
Dr. Michael Tobler is a pediatric dentist practicing at Beckland Dental Kids. He lives in the area with his wife and three children. He grew up in Montrose, Colorado, and attended BYU in Provo, Utah, where he received a Bachelor of Science in physical education with an emphasis in exercise science. During that time, he took a two-year hiatus from his studies to serve a mission in Russia. He attended the University of Colorado School for Dental Medicine, where he graduated magna cum laude with a Doctor of Dental Surgery degree.
Dr. Tobler practiced dentistry several years in western Colorado before deciding to specialize in pediatric dentistry. After seeing a number of children in the practice, Dr. Tobler felt inspired to pursue advanced specialty training in pediatric dentistry. He moved with his family to Rochester, New York, and worked and studied at Golisano Children's Hospital, where he received his specialty certificate in pediatric dentistry.
After residency, Dr. Tobler returned to western Colorado, where he started and operated his own independent private practice before deciding to move to Farmington. He is an experienced clinician and is committed to the highest quality of care. He is a member of the American Academy of Pediatric Dentistry, the American Dental Association®, and both state and local dental societies. Dr. Tobler loves outdoor recreation, nearly all sports (especially soccer), reading and writing, and being involved with his church and other community efforts. He especially loves spending time with his family.
Dr. Tobler maintains hospital privileges at San Juan Regional Medical Center.
Meet Our Team
Sacaunda Markle: Office Manager
Amy Randleman: Receptionist
Bianca Castillo: Receptionist
Kylene Aikele: Hygienist
Traci Wiltbank: Expanded Function Dental Assistant
Judy Alexander: Dental Assistant
Kayce Nichols: Dental Assistant
Kayla Cluff: Dental Assistant
Caitlyn Graham: Dental Assistant